I'm here for you, Nicolle Wallace of The View, who says there aren't any guidelines out there for choosing what to read to your baby!
The gals were discussing the "hot topic" of this newly-published fun fact: Chelsea Clinton reads the news to her infant daughter every morning. There seemed to be a consensus among them that it's appropriate to shelter the wee ones from the harsh realities of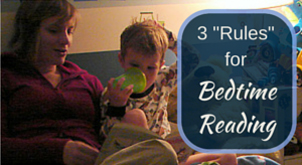 our world — and I completely agree. Whether it's an intentional choice or not — young children's exposure to adult news and conversation is typically inadvertent and "accidental" — the young brain & psyche simply aren't equipped to process foreign affairs, environmental brinksmanship and other front-page fare.
With an avalanche of so-called children's books to choose from, three simple guidelines can help parents decide which bedtime reading fare will best serve their child. {Read about them at mothering.com}