As long as our country continues to show up so poorly in world rankings on maternal health, I continue to run this article every year on America's birthday, hoping to illuminate issues around our perceived birth choices. Am I naive in thinking that individual independence around these issues can help pave the way to us being a safer nation for mothers and babies?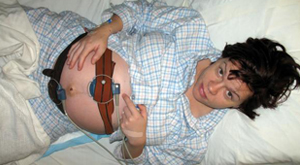 It is sad enough that the U.S. sits so poorly in world infant mortality rankings, but a new report published in the prestigious medical journal Lancet and reported in the Washington Post points out that our childbirth-related maternal death rate continues to rise and is at nearly its highest point* in twenty-five years. [*Aside from its sharp spike in 2009 due to the H1N1 influenza virus.] American mothers die in or around childbirth at double the rate they do in Saudi Arabia, and triple the rate of the United Kingdom — and at statistically the same rate as in Iran.
In terms of where it is safest and healthiest to become a mother, America — land of the free and the brave — ranks 60th of 180 nations. In that context, is there any real birth choice?
Okay, now that I've totally bummed you out so you feel like you've got to reach for an early margarita with a little flag in it, let's talk about what individual Americans may be able to do to improve the situation. (And even if it doesn't improve the national situation, it cannot help but to improve your own birthing and parenting wellbeing!) {Grab your marg and read the rest at mothering.com}