I'm off to Asheville, North Carolina to teach an all-day class in how to foster the healthiest brain development in children. Because this is a training for professionals working with young children and/or parents of young ones, I had to give it an appropriately scholarly title — "Towards a Neurobiology of Thriving: A Parenting for Peace Toolkit for Building Healthy Young Brains."
The cool thing is, even though it is an opportunity for professionals to earn their CEUs (Continuing Education Units), the organizers are making a low-price registration available for any interested parents who don't need the credits, just the info!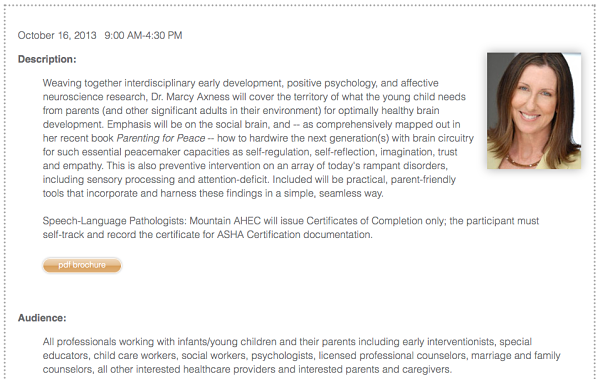 Sound good? No worries!
Can't make it to Asheville? We here at P4P headquarters are whipping up some great ways for you to get much of these same great tools and resources…so keep your eyes peeled: this is going to be a bountiful fall season for Parenting for Peace folks!
Toodles for now…
Marcy