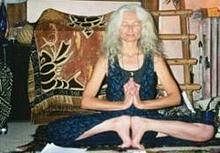 The very word itself… yogini …sounds like the image of Jeannine Parvati Baker in full-flowering asana mastery: lithe stems curling around o-so-full center of heartful breath. At once elfin and elegant. A bold design, a weaver of words. Alive forever in our memory.
This pioneering activist for homebirth, unassisted childbirth and newborn rights would have turned sixty-five this week. Far from retiring, I'm guessing her tireless voice for eco-feminism and reproductive health would be dancing circles with social media. Our wise crone Jeannine Parvati Baker would just be hitting her stride.
Prefacing an extensive interview with her, Michael Mendizza writes that Jeannine was "a yogini, midwife, herbalist, published author, and poet. She was also an international activist on the matters of homebirth, unassisted childbirth and newborn rights issues. A pioneer in the new frontier of women's studies and feminist women's health, Baker's first book, Prenatal Yoga & Natural Childbirth, was the first text in the Western world on the subject."
A Purveyor of Womanpower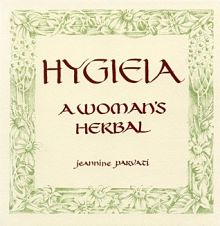 My introduction to Jeannine was through her next book, Hygeiea: A Woman's Herbal. I was in my twenties, not particularly crunchy, and yet seeking something beyond the ordinary, when I intuitively picked it up at the Bodhi Tree bookstore in Los Angeles.
How often I giggled at the image she offered — or rather, invited me to enter — of a flowing woman during her moon cycle, squatting in the garden to return her power to the earth. It may have taken me a few years for those seeds Jeannine sowed to take root – more than twenty — but sure enough, we moved to a home with just the right yard for my inner gardener to emerge (for the first time in my life), and I became a lover of antique and English roses. What became their most special fertilizer?? You guessed it. No, I never did actually deliver it directly via squatting, but would I have ever, unless cajoled by Jeannine, soaked my cotton tampons in a pitcher of water, then actually wrung them by hand of all the juicy redness to return it to the soil…??!! It was curiously, deeply satisfying.
Of all the internationally acclaimed roles Jeannine held, she was at the heart of it all indeed a yogini — dedicated to restoring union to what had become disconnected in so many dimensions of our culture. In her writing and teaching she decried our modern alienation from our own bodies, from our knowledge of them and our trust in them. She devoted her life to raising (or more accurately, restoring) women's — and men's — awareness of their connection to the earth and its cycles, offering practical ways to recover the innate wisdom and power that resides in each of us.
Sure, menstrual blood is great garden fertilizer, but more importantly, points out Jeannine, it's a good way to "get in touch" with your period: "Handling your … blood helps to discharge lots of our self-disgust, so inculcated by media, myths and poor health. …The handling of your own secretions will prepare you for the sometimes bloody experiences of childbirth, and other crises. Blood will cease to 'freak you out.'"
In an article entitled "In the Flow: The Intimate Ecology of Womanpower" I highlight Jeannine's invitation to "an increased sense of trust and appreciation of [our] reproductive cycles — an invitation to reflect upon these cycles as a means of soul-making and spiritual development that will vibrantly color all aspects of our lives."
As one example, Jeannine Parvati urges us to reconsider the true meaning of our monthly moon time: "Menstruation is the red flag that salutes the hard work of the preparation for another conception. Modern women suffer premenstrually because they do not fully comprehend the magnitude of the psychic and nutritional preparation that is required to build a healthy lining for an embryo. Your body has not slackened off from its commitment to reproduction and pulls from every cell to fulfill this mandate."
In other words, our bodies and psyches work hard to create conditions for new life and our obliviousness to that fact (for many) brings suffering. For which we create labels like "PMS."
Not only is this bodily knowledge and trust fundamental to healthy birthing, it extends beyond individuals to our collective mother, our planet Earth. Jeannine believed that the "lack of attention to the care and maintaining of this planet is sharply reflected in the way we have ignored the messages from our own bodies." Womb ecology, world ecology.
Indeed, womb ecology from the very beginning. Though the concept has existed for thousands of years in sacred traditions, Jeannine surely popularized the term when she (together with Frederick Baker) published the landmark book Conscious Conception, which inspired readers to expand their conceptual horizons about the shaping power of our beginnings. (What a wonderfully human glimpse it was to hear Jeannine present at APPPAH — Assn. for Prenatal & Perinatal Psychology and Health — many years back, as she "confessed" that while her other children had been conceived with conscious intention, her youngest had been unexpectedly conceived in a Valentine's day of passionate lovemaking.)
The Waning Days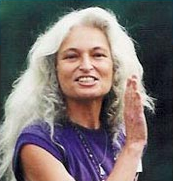 Jeannine was a spitfire goddess, eyes a-sparkle with keen knowingness, and that hair… like antennae direct to the stars. She spoke with a flaming, clear-eyed voice, reinventing language so it expressed what the soul (and the planet) needed. And she challenged, challenged, challenged. At one early APPPAH conference, when she had a babe in arms who hadn't yet passed the nine moons outside the womb, she requested that the audience please hold the energy close and sacred as if in a chalice — to the point of asking that the doors be closed and nobody enter or exit during her talk.
Jeannine was both defiant and sweet, as that story so perfectly captures. APPPAH brought us together and over the years we plotted, we collaborated, we chatted, we huddled. We presented breakout sessions together more than once. We commiserated over husbands. We disagreed with loving respect over tough issues like abortion. When I learned during the 2005 APPPAH Congress that she was soon to Leave… I knew many of us would feel like orphans in a way, with the loss of Mother Jeannine.
Babz Covington Midwifes the Midwife
At the 2012 Trust Birth conference in Nashville, what an unexpected moment of grace it was when Babz Covington was given The Jeannine Parvati Baker Memorial Award for Outstanding Service to a Midwife and Her Family. This special award, six years after Jeannine's passing, was bestowed upon Babz for having answered the call Gloria Lemay had put out to the midwifery community in November 2005: who was willing and able to travel to Joseph, Utah, and tend Jeannine in her last weeks?
"The skillset is the same," Babz told me as we sat together in Nashville, "midwifing death as it is midwifing birth. All part of the continuum." Listening to Babz's recollections felt like a benediction.
"We had wonderful conversations," Babz reminisced. "She told me a lot of stories, a lot of things about people she knew and loved. She felt like she had her circle finished and done, that she had her work done.
"It was the conversations, the last stories, being able to make her laugh. She'd test me — 'How many babies have you delivered?' 'None, but I've caught a few' — and as her voice left, she'd gesture, and big gestures became miniscule gestures. She was very grateful and non-demanding with me, very sweet and kind."
Jeannine's needs became very simple, like for Babz to juice her a pomegranate so she could have three teaspoonsful, or to rub the soles of her feet, so it took her mind off the rest of her body.
"She'd want two teaspoons of tea for breakfast. I'd make it pretty, give her a teeny, tiny amount of food on a teeny, tiny plate — I think it was probably from a child's tea set. When the hospital bed came, she had me turn it so she could see outside.
"Lots of electrical interruptions began happening when I knew she was soon to go. I went to the back door just as [Jeannine's husband] Rico arrived. I bathed her, dressed her pretty in a dress Hayley had picked out, put oil on her, called the children. She let go of Rico's hand, took a big breath. Rico said 'I think that's her last breath.' I called the children again quickly.
"Her heart kept beating for almost two minutes after that last breath, such a strong heart. I'll remember those three tiny little heartbeats under my fingers for the rest of my life.
"It was miraculous how she had looked so sick for days before she died, but right after, she looked like Jeannine again. Her face looked fuller. Even a little smile. Like she had finally figured out how to get out of her body."
Rock on, Jeannine. We are all your body now.
Blessed Be. Blessed Do.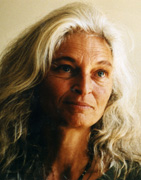 June 1, 1949 – December 1, 2005
Tags: Babz Covington, conscious fathering, Gloria Lemay, Jeannine Parvati Baker, menstruation, midwife, moon cycles