When I was pregnant with our daughter, I took prenatal yoga with the renowned Gurmukh Kaur Khalsa. Gurmukh's wisdom encircled and empowered me through my pregnancy, and nourished me through the tender postpartum period — inviting us to engage an ancient wisdom prescription: cocoon at home for forty days.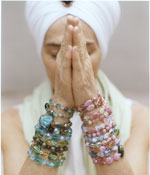 We closed each class by singing a Kundalini farewell blessing (originally lyrics from an Incredible String Band song):
May the longtime sun shine upon you,
all love surround you,
and the pure light within you
guide your way on.
Isn't this perhaps the highest aspiration we can hold as parents — to nourish, protect and support that pure light within our children, as it guides them on their singular life paths? Call that light what you will: spirit, soul, singular personality and temperament, unique intelligences. It is indeed all of these things plus infinite others that weave the human mystery.
Gurmukh also taught me the concept of The Forty Days. For many reasons, including the immature development of his brain and the fact that the energy field of his body is not yet fully formed and intact, a newborn is extremely sensitive to incoming energies and sensations — especially sound and touch.
I love how the late poet John O'Donohue described babies as "fresh from the eternal." Partly to protect the integrity of their newly arrived babies, cultures around the world have postpartum rituals with a common theme: a new baby remains sheltered at home, with just family around her, for forty days. This is equivalent to the six weeks that pediatricians once routinely prescribed as the length of time to wait before exposing the new baby to the wider world. (Any trip to the mall, where you're sure to see a few brand new humans being toted around, is enough to show you how outmoded that prescription is!)
Postpartum Wisdom Meets Neuroscience
I see the practice of The Forty Days as intimately related to a child's "pure light within": It is one of the first ways in which parents can concretely demonstrate active love of their baby, safeguarding for him a gentle landing into this world, so all that makes him uniquely him can remain unadulterated, strong, and pure.
In case it sounds a little airy-fairy, this concept fully lines up with the latest science of brain development: a steady diet of too many incoming sensations — like one would encounter, say, at the mall! — can overwhelm immature brain systems and may contribute to later disorders. The rates of sensory processing disorders — complex, under-researched neurological conditions in which children's brains can't adequately integrate (make coherent, meaningful sense of) sensory stimuli such as touch, sound, or movement — appear to be skyrocketing, joining the epidemic of ADD and ADHD.
Postpartum Wisdom is Countercultural
The Forty Days practice tends to clash with our culture's "have a baby but don't miss a beat" mentality: I am woman, see me birth…and then plan a party and land that important client.
Yes, slowing down during the early weeks and months can be a challenge in this speedy world — particularly for the woman who is intelligent, capable and used to "doing." This is especially true if she had a great birth: she feels on top of the world and may have the tendency to perform, to organize, to accomplish.
But here's a central piece of the transformation process: when a mother chooses instead to enter a primarily receptive mode during this time…to freefall into the hazy, uncharted territory of her baby's subtle (and sometimes not so subtle) signals and rhythms…to slip into Nature's intended entrainment with his breathing, his moods, his sleep…to let his soul imprint itself upon hers…she casts a shimmering net of secure connectedness far into the future of her relationship with that child, and his relationship with Life.
Another obstacle is the sense of imprisonment some women experience within the breastfeeding relationship. True, the seemingly incessant demands by an infant for mother's milk can sometimes feel like a kind of assault. Our sleep suffers, our capacity to function normally suffers, our ability to accomplish even the most basic tasks suffers. This is when we have the opportunity to develop what people seek at the feet of spiritual masters: the power to respond to what Life is asking of us, in this moment, right now. Presence. Poet Andrea Potos sums it up in this poem:
Instructions for the New Mother

Give up your calendar and clock,
start flowing with milk time.

Hunt for the frayed scraps
and threads of your fears.

Wrap your child's cries around
the skein of your days.

Stop racing to meet your familiar ways —
know change
will always beat you.

Lower that small fist of resistance
still struggling to rise within you — start now —
unclench your life.
Think of the animal kingdom, of which we're a part: mothers won't let you near their new babies! A tenderly protected, connected postpartum time brings countless blessings, all of them related to the unfolding of peace, joy and multiple intelligences in both baby and mother. Not only is it a potent preventative for postpartum depression,[i] it can also bring about deep healing within the mother, infusing the baby she once was — who may have suffered hurts, losses, her own newborn separation — with more ease and harmony.
Do less, buy less — just be, more. Depending upon your own experience of babyhood, and whether someone was able to "just be" with you, this might be an incomprehensible concept, maybe even a little bit terrifying. It was for me. But babies and children are our Zen masters, inviting us daily to our own renewal — and with it, their most vibrant flourishing as peacemakers.
Enjoy Some Moments with Gurmukh
"I can't put down your amazing book. Parenting for Peace is a revelation."

Gurmukh
**********

---
[i] Kendall-Tackett, Kathleen. "Nighttime Breastfeeding and Maternal Mental Health." In Science & Sensibility: Lamaze International, 2010. When co-sleeping caught on in America in the 1970s, the rates of postpartum depression dropped dramatically within those groups practicing it.
Tags: Andrea Potos, gurmukh, how to parent, postpartum, prenatal yoga