From the comfort of your own home, join like-minded parents from around the world ~ and discover that transformation
can be just a phone call away!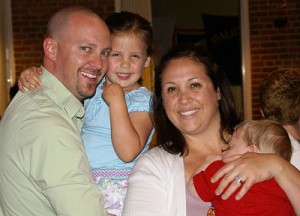 Love Parenting for Peace but running into challenges putting the principles into practice? Want some "quick start" help with that??

Or (be honest, we understand!)…haven't quite gotten it read yet?


Wish daily family life could just be a bit easier & more joyful?

Would you like to learn an elegant way to navigate and transform those tough parenting moments?
Join us!

March 7, 14, 21, 28 & April 4, 11
Thursdays at 12:30pm U.S. Pacific time / 8:30pm UK time
Dr. Marcy will offer participants fundamental tools based on the principles in her book Parenting For Peace: Raising the Next Generation of Peacemakers — tools designed to be practical in the face of three core challenges facing parents today: Too Much Information, Too Many To-Dos, and Too Little Confidence.
Kathy White, founder of Joyful Parents in the U.K., will introduce participants to The Work of Byron Katie, which works in remarkable ways to help you explore and release the mental blocks, resistances or old habits that may be preventing you from putting P4P tools to use. Kathy's gentle work is an amazing, fast route to achieving a harmonious and fulfilling relationship with your child!
In the course of our 6 weeks together, there will arise a wonderful, nurturing community amongst the participants. And you'll take away simple and profoundly effective ways to get beyond the stress of parenting and to discover new peace and happiness for you and your children.
Listen to what one mom had to say about the power of this process with Marcy and Kathy.
Curious? Take advantage of our FREE series of audio clips
to let you listen in on the entire process in action with real parents!
Free audio clips
More info / pricing / registration via Joyful Parents
Image: VFW Kids