Stressed, Angry, Out Of Control, And… Aaarrgghhhh!!!!
to Sane, Centered, Peaceful & Connected
with Your Kids

>> If You're Ready to Join Now, Click HERE to Skip This Letter <<
Does This Sad Picture Capture What Goes on in Your Head…
and Maybe Even in Your Home… Too Often??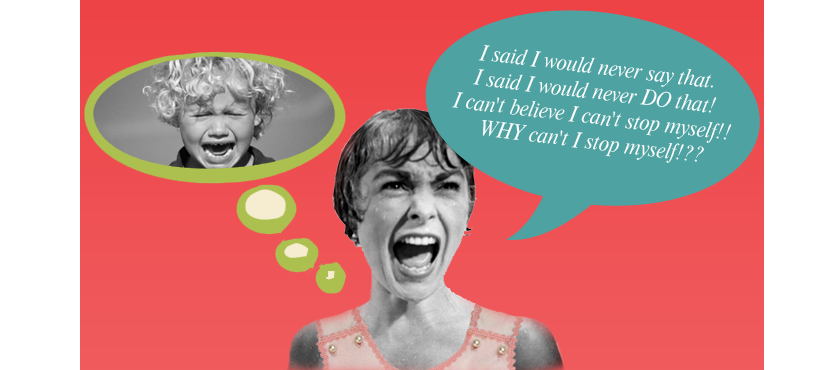 Afraid You're Running Out Of Time To Fix Your Parenting?
And Don't Know HOW You'd Even Start??!

Dr. Marcy's Personal Parenting Journey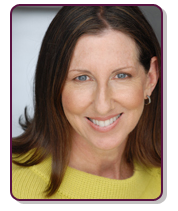 I'm not just "Doctor Marcy"– I'm a mom who's been there, like you.
When I was expecting our first child, I was so prepared!

I read up on Joseph Chilton Pearce's theories on the natural unfolding of intelligence, and hunted down the perfect pastel rag-woven upholstery for our nursing chair. I did prenatal yoga, I did peaceful birth visualizations, I did Bradley.
But nothing could have prepared me for the upheaval that was about to come.
Motherhood brought me to my knees.
Taking care of an infant wore me away. It brought up a lot of my own… well… emotional sh**. Unhealed wounds around what I didn't get from my mother when I was that age. All that unconditional nurturing and security that children crave and thrive on – that I didn't get. These were the things that my baby was needing ME to give to HIM, and in trying to do that, I was scraping an empty, aching well.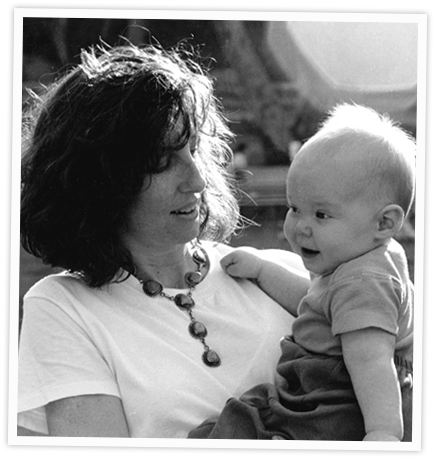 But I didn't realize it. All I knew was, I felt irritated and angry most of the time. I remember one morning darting into the hallway bathroom and whipping a hand-towel across the tile counter to drain off enough rage so I could manage to sit on the living room floor and simply BE with my baby boy.
I was so "clogged up" with my own childhood stuff intruding into the present, that I found it overwhelming — all the choices I had to make in one single day for my child!
I ultimately had to go out and get a PhD to fully understand & address these issues in my own life, so guess what — you don't have to!
The 5 Tools That Will Reconnect You With Your Kids Today
If I'd had the 5 Parenting for Peace tools I'm sharing with you now, my own parenting experience would have been far less stressful & far more enjoyable.
Simply putting any ONE of these tools to practical use in daily life will help you enjoy those precious early years rather than simply surviving them.
Here's the great news: you CAN be the parent you long to be! You do have access to these simple tools and instructions that will easily guide you to parent with the confidence and peace of mind that comes from knowing you're making the right parenting choices — choices backed by both scientific evidence and ancient wisdom traditions.
I will hold your hand and give you clear steps to follow. No more nagging anxieties — instead, the peace and satisfaction of being the parent you want to be!

"I like it because sometimes it gets down to simple fundamentals"
"Your efforts to educate our world are vital to our evolution! I'm so glad you're taking the growth-or-protection story [Tool #3] and making something big out of it. I like it because sometimes it gets down to simple fundamentals, and simple fundamentals are where the truth is."
~ Bruce H. Lipton, author, Biology of Belief and Spontaneous Evolution
"Parenting For Peace gives us
a roadmap"
"Dr. Axness has distilled compelling evidence from the fields of attachment parenting, preconception, and consciousness research into what we really want to do as parents: raise peaceful people. Parenting For Peace gives us a roadmap."
~ Peggy O'Mara, Mothering magazine
"I think EVERYONE on the PLANET needs to listen to this course!"
So many "aha" moments. What a blessing to have access to this information. I would absolutely recommend it to anyone – I think EVERYONE on the PLANET needs to listen to this course. Thank you, thank you, thank you!! Xo"
~ Sarah Ripard
My dear parent-in-progress, I feel you — I was there in your (tight, pinchy) shoes a couple decades back!
You had a vision of who you would be as a parent ("enlightened"… "progressive"… "peaceful")
— and now the reality isn't looking much like that vision.
You suspect that your own childhood history is echoing back upon your parenting present — whether that included emotional or physical abuse, relational lack, or whatever it was — and you don't want to pass that on to your children. We can have the best intentions to treat our children differently than we were treated, and yet we have all been deeply conditioned to parent in a specific way — pretty much the way that our parents were parented! I know the feeling of hearing the words coming out of your mouth to your kids… or feeling the hateful look on your face…and thinking, "Oh my God, what am I doing?? I'm f****** up my kid!"
Let's Get You the Tools You Need, So You Can Be the Parent You LONG to Be!

Your Own Childhood History Impacts the Way You Are Able to Parent Today — BUT… You Can Change FAR More Easily Than You Think!
"Do yourself, your children, and our human family the service of applying Marcy Axness's wisdom"
"As a pediatrician, I've watched her put her vision into action over two decades. I heartily endorse the sound, simple yet revolutionary guidance she offers. Parenting for Peace won't disappoint you."
~ Jay Gordon, pediatrician and UCLA professor of pediatrics
"A tranquil revolution that would benefit all humanity"
"Marcy Axness lays down the simple but profound principles and practices required to raise generations comfortable in their hearts and happy with themselves. A tranquil revolution of the soul and of the home that would benefit all humanity."
~ Gabor Maté, M.D., author, In the Realm of Hungry Ghosts: Close Encounters with Addiction
You really do want to parent differently than you're doing right now… but can't quite put your finger on what that would look like!
"We wholeheartedly recommend Marcy!"
"My wife and I wanted the best for our son. Marcy's amazing command of the latest research combined with her experience of raising two children, gave us the confidence to make important decisions regarding our parenting right from the beginning. People always said Max was the happiest baby they'd ever seen, and the happiest toddler — and he's now someone who is very considerate and polite and an all-around good kid. We wholeheartedly recommend Marcy's parenting guidance & methods!"
~ Scott and Amy Lawder

******
"We thank you 10 times a day"
"We thank you 10 times a day for the depth, richness yet simplicity your work has introduced into our already thriving little family."
~ Elizabeth and Anders Hostmark
Parenting is a Brief & Precious Window ~ Don't
Let it Slip Away!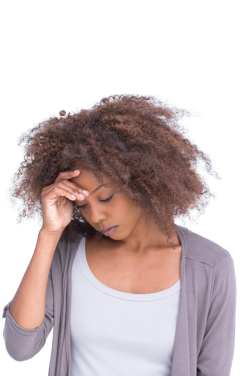 Is daily life with your child(ren) marked by power-struggles, cajoling, resistance and debates over everything from brushing teeth to getting dressed to (not) watching TV? Do you wonder, WHERE are all those sweet, treasured moments people talk about?!
I KNOW that you're deeply devoted to doing the best for your child, but here's my guess: you're feeling stuck in the rut of ineffective parenting! It is SO common today for parents to:
not feel the confidence you need to sift the right choices for YOU from the tsunami of today's information overload
feel chronically STRESSED OUT by parenting, rather than calmly SANE
suffer the nagging worry in your mind and heart that you're not a good enough parent… that you're failing your child… that he or she won't succeed

You're ALREADY a Good Parent if You're Worried About This:
NEURO-SCIENTIFIC RESEARCH SHOWS: When you are chronically stressed as a parent, your child's optimal brain development is curtailed
.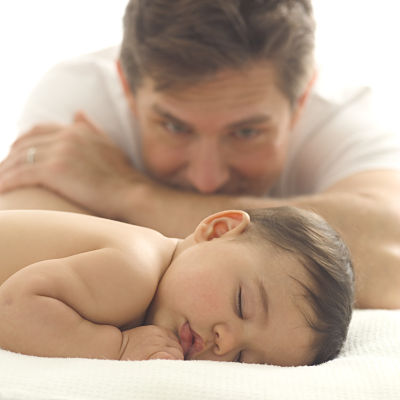 Beginning as babies (and even before, in the womb!), children "download" their parents' social-emotional brain circuitry — their patterns of functioning with others and the world. When the pressure's on, do we stay cool or explode… are we loving or angry… do we treat ourselves and others with compassion or indifference?
That is how our children will be!
Persistently stressed parents tend to discipline in ways that erode their child's trust, respect and admiration — which is a catastrophe for the health of your lifelong relationship together! The special intimacy that CAN be there between parent and child is gradually replaced by distance, resentment, and contempt.
This makes for a home that isn't harmonious or joyful…and a world with fewer peacemakers to help evolve our human family! YES — this isn't just about bringing more peace to your daily life (though it WILL)…it is about changing the world by raising a generation who are "built for peace."
It's NEVER "Too Late" to Turn Things Around!
It is always possible to improve what feels like the most HOPELESS case of parenting hell — provided you stop looking "out there." If you are ready to look inwardly, there is always hope. These tools will empower you with a roadmap you can follow with ease, joy and confidence to make the inward movements that result in outward shifts — sometimes astonishingly quickly!
My wish for you is that 18, 14, 10, 8, 5 years from now, you have the thrill of witnessing your child's emergence as a fully flourishing adult — a global citizen with emotional, intellectual and social intelligence and a reverence for both humanity and nature. A peacemaker, poised to make a positive difference in a challenged world.
I wish you the awe and gratitude you will feel in your parent's soul as your vibrantly healthy adult child steps into the world — knowing that it is because you answered Life's invitation to learn, stretch and grow as your child's parent… …knowing that because you answered that call with a resounding YES, there are no regrets and no what-ifs.
And there is no peace like that peace. The peace of knowing
you've done your best.
THAT is my wish for you!

Your Path to Sane, Centered,
Connected-With-Your-Kids Parenting
is Right Here For You NOW!!
With the "5 Parenting for Peace Tools" program, you will be equipped to:
enjoy more ease in your parenting and more peace in your home
naturally "wire" your child for success, in school and in life
gain more self-possession, confidence & tranquility in those day-to-day moments
feel better about yourself as a parent (and a person)
see a new level of respect from your children
experience your family <gasp!> actually enjoying each other
keep your cool when the kids melt down
"Parenting for Peace is a revelation."
"I can't put down your amazing book. Parenting for Peace is a revelation."
~ Gurmukh Kaur Khalsa

"Marcy Is A Generous, Wise Companion"
"Fantastic resource for anyone who is, has been, or has had, a parent! Marcy is a generous, wise companion on the journey home."
~ "5 Tools" class participant
5 Parenting for Peace Tools to Transform Stressed-Out into Sane & Centered
The 5 P4P Tools
❤  Presence
❤  Kid Brain Savvy
❤  Growth – or – Protection Regulator
❤  A Zip for Your Lip
❤  The Mirror
What You'll Experience in this Transformational Journey
Dr. Marcy: "Give me 25 minutes a week,
and I'll help you turn it all around!"
In 11 Self-Paced Online Modules & eGuides I Lead You Step by Step Through This Game-Changing Toolkit As…
together we delve deeply into each of the 5 tools, one at a time for clarity, to understand

its researched benefits for your effective parenting and your children's healthy development
its range of practical applications (examples, tips & tricks for using it!)
how it fits into the context of conventional parenting (i.e., what you'll tell the neighbors or in-laws)
the how, when, what, why of the process, and what to do when you're thrown a curve ball, and your mind goes blank!

you gently explore your own history and resistances to each tool, using the guiding prompts in the eGuides
and always with the ongoing option of my personalized coaching
"It is working — and the result is nourishment for me and my children!"
"We have made so many leaps forward as a family. My sons view the world around them as a place of abundance, they live in "growth mode," and thrive in the simplest surroundings. They value the tiniest things and they SEE them. They are not in hurry, stimulated to the point that they need more and more and more. I have been taking one small tool or phrase and referring back to it over a week. For example "To say less and have it mean more" (from Tool 5, on the power of example). Also in this module was much talk about finding one's inner nobility / dignity. I have been practicing this in small, simple ways. I have been practicing living the notion that it is not about what we say, but who we are, as you also highlighted in this class. It is working — and the result is nourishment for me and my children!"
~ Liz Bolden
"The 5 Tools Class Was a Real Life Changer…"
"The tools helped me reach a level of peace in our household that I did not know was possible!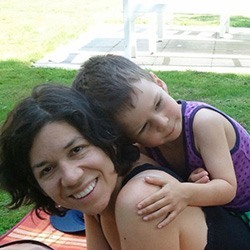 A couple examples: I'm seeing the power of [Tool #1], Presence! Miles and I were falling off track the last few days, lots of (his) hitting and not so easy transitions. Today I spent most of the day playing with him, honoring his pace and being truly present…. and voilá! We are back on track tonight — some peaceful parenting indeed.
And, an "aha" moment I recently had, using [Tool #4] a Zip for Your Lip to encourage Miles' imagination:
Miles: Mama, why does the radio have an antenna?
Me: Hmm, I wonder…?
Miles: To make it beautiful!!
Point proven, Dr. Marcy — thank you!"
~ Gabriela Dominguez
"Different ideas that really helped…"
Such excellent information — different ideas that really helped, not just ideas you can find off of the internet! I'm feeling more confident with my oldest; the point [in Tool #1] about how you need to first accept their behavior before you want it to change, is just huge for me — I love that! Another thing that helps me greatly [from Tool #5] is to picture the kids as who they might be as adults.
Hearing Dr. Marcy's calming voice always helps me to refocus my energy for the better. Love her and the P4P community so much!"
~ Elaine Gonzalez

Can You Afford NOT to Have This Guidance??
Course Content
Tool #1: Presence
Fostering your child's optimal brain development
Teaching your child how to self-regulate
The role our childhood story plays in parenting, and what to do about it
The single best parenting investment for your child's wellbeing, and your joyful peace of mind
The miraculous power of attention & attraction
Nurturing presence through rhythm, warmth & simplicity
Mantras, meditations and mindfulness techniques that can turn everything around
Why multi-tasking is really not healthy for you or for your child
Tool #2: Kid Brain Savvy
The relief of working with (rather than being frustrated by) the sensory-motor stage of early childhood
Brain-wise discipline (and brain-"dumb" discipline, too!)
Laying the foundation for your child's lifelong success in the early years
A simple yet revolutionary technique for transcending the "I told you 5 times already!" struggles
When things are falling apart (tantrum, whining, opposition/defiance), a two-step foolproof intervention
Understanding once and for all the effect of TV on the developing mind
A little-used but wonderful alternative to television that your child can love just as much
Toys that build brains (and toys that drain brains)
Tool #3: Growth-or-Protection Regulator
Understanding the "mainspring" of the growth v. protection process
How stress (protection mode) impairs brain development
How to outsmart evolution's "mistake" in our stress response system
Specific language and actions with kids that promote growth mode (and those that trigger protection mode)
Handy guide for assessing what's growth-promoting v. protection-triggering
The relatively unrecognized yet OH-so-critical role of your child's life-building energies — and how to put that knowledge to great use
Your child's need for rhythm, reverence and beauty
The trouble with Time-Out — and healthier alternatives (discipline maneuvers that work!)
Tool #4: A Zip for Your Lip
Your child's need for calm, loving authority — and tangible ways to cultivate it within yourself
Why too much negotiation, explanation and collaboration isn't healthy for your young child
Easing life with the child who is "difficult"… "strong-willed"…"a handful"
Key words / phrases that can undermine your authority and your child's wellbeing
The "magic word" that enlists cooperation like… magic!
Why offering your child too many choices may be making you both miserable
Avoiding TITD (Talk It To Death) syndrome — Dads are especially prone!
Tool #5: The Mirror
Using secrets from neuro-science to harness the power of parental example
The unhealthy (and stressful!) trap of "child-centered" parenting
Landmine: your "inner entourage" and how to transform them from obstacles into allies
Landmine: what imprints from YOUR own childhood are you projecting onto your child?
Criticism, cynicism, complaining: how these examples are poison for your child
"My child just doesn't respect me!" What to do if this applies to you…
Harnessing the power of imagination to grow your parenting soul
Things to do now, to be sane & centered during the teen years
What You'll Receive
11 Lesson Modules (2 modules per tool, plus an Introduction) — Accessed via a simple internet connection to a members-only area of my website
6 eGuides (Course introduction upon registration, and one for each tool) Coordinated with the lesson modules, designed to help you get the most out of each tool
Ongoing Contact — I'm not going to just leave you adrift with 6 hours of video to navigate! You'll hear from me with pacing suggestions, reminders & general encouragement
Value-Packed Extra Resources — Each tool comes with carefully selected additional material, including some exclusive contributions by top experts, to extend & enrich your mastery of the tools
Lifetime Access — Once in, always in. Come back in a year, 3 years, 8 years ~ you'll learn in all new ways, because you'll be a different you by then!
"Shift Your Child's Perplexing Stuck Behaviors Overnight" Plan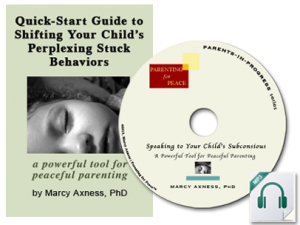 This set includes a 75-min. Dr. Marcy Audio Coaching Session and companion Quick-Start eBooklet. This is a step-by-step plan to "un-stick" those perplexing, frustrating behaviors. This coaching includes specific guidelines, sample cases, and a bonus: a powerful guided imagery for bringing more confidence and peace to your experience as a parent. ($59.97 value)
"The impact was nothing short of profound"
"In this session, Marcy shared sleep-talking scripts that have been useful. I can tell you the impact was nothing short of profound, even to me as a listener. I found myself feeling very emotional and thankful as I gave thought to healing for my own family. "
~ Kristi Saul, MEd, Director, Adoption Parenting Inner Circle
"Be the Best Parent You Can Be" Summit Interview w/ Dr. Marcy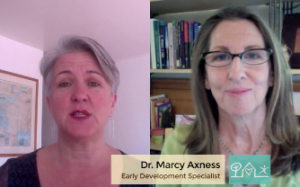 A 35-minute chat — sometimes humorous, sometimes serious — with Montessori educator Jeanne-Marie Paynel covering many topics central to the 5 Tools, as well as some deeply personal revelations by Dr. Marcy about her own parenting history. No longer available (much to many Summit attendees' disappointment), but you get exclusive access! (Priceless)
"It is an honor to be in your circle."
""You are truly so wise and wonderful. I am blessed. It is an honor to be in your circle."
~ Tricia Stuart
P4P Sane & Centered Toolkit "Crash
Course"
75-min. Dr. Marcy Audio Coaching Session that jams through a "Cliff Notes" version of the "5 Parenting for Peace Tools" program. This is super-valuable after you complete the course, for a light-speed refresher session. ($150 value, if it were available, which it is not — this is a stealth resource, only for 5 Tools students!)

"I know of no one so well equipped educationally, intellectually, emotionally and intuitively to speak to our times"
"While library shelves bulge with books on parenting and childhood, our situation has only deteriorated. Somehow, the subject registers on too small an audience. That serious lapse could be turned around through Marcy Axness's work. I know of no one so well equipped educationally, intellectually, emotionally and intuitively to speak to our times."
~ Joseph Chilton Pearce, author of The Biology of Transcendence, Magical Child, Crack in the Cosmic Egg and other landmark works
"Marcy brings a clear voice…"
"Marcy brings a clear voice to the number one task for families and societies: to raise citizens committed to cultures of peace through the gift of knowing peace right from the start. And we can do so by 'raising ourselves,' in consciousness."
~ Raffi Cavoukian, beloved children's entertainer and founder of Child Honoring
Money-Back Guarantee: You Have NOTHING to Lose… And Plenty of Peace to Gain!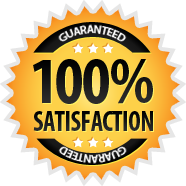 If you take in all the teaching modules, engage your eGuides and put in the homework practice, I'm confident you will have gains in your parenting confidence, tranquility and effectiveness. But to help you relax (in "growth mode"!), if this program isn't a fit for you, you have the peace-of-mind of a 30-day money-back guarantee.
This is my promise to you.
Marcy
Bring Sanity, Centeredness, and Connection with My Kids Into My Life Now!
I understand I'll receive
11 user-friendly, self-paced lesson modules featuring Dr. Marcy's videos as well as links to extra information & resources related to each tool
6 eGuides / journals carefully designed to help me engage with each of the tools for maximum effectiveness, enjoyment & success
Connection with Dr. Marcy via consistent check-ins to keep me on track and moving forward
Lifetime Access to this program ~ Each time I take it, I'll discover new facets and have new "ah-hah"s!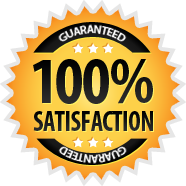 I know I'm protected by a 100% Money-Back Guarantee
I Have NOTHING to Lose… And So Much to Gain!
Get started for $97*

* Then just ONE more payment of $97 ~ this is a steal!!
Your Teacher & Guide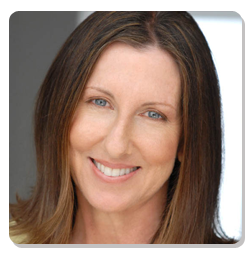 Marcy Axness, PhD, is an early development specialist, parent coach, and author of Parenting for Peace: Raising the Next Generation of Peacemakers.
An authority on adoption, prenatal development and Waldorf education, Dr. Axness is a popular international speaker and has a private practice coaching parents-in-progress.
All other accomplishments aside, Marcy considers that her most important (and joyful) credential is being mother to Ian and Eve, both flourishing peacemakers in their twenties!