Calm Authority for Mothers
Dr. Marcy's most popular from Dr. Marcy's most popular coaching session, Calm Authority for Mothers.
It harnesses proven mindbody principles in a series of guided imagery processes that are pleasant,
soothing and yet very powerful in helping you makes positive changes!
This clinically proven material will help you:
bring more confidence and ease to your parenting
reduce anger / frustration levels
cultivate the inner authority to make life more of a breeze
de-stress — become more "sane & centered"
foster your child's optimal brain development
This is a tool that works for me towards delivering
the principals of "Parenting for Peace" on a cellular
level via its relaxing prose and music, yet insistence
on bringing one to the assurance and self-possession
highlighted in Marcy's work.
~ Elizabeth Bolden, mother of two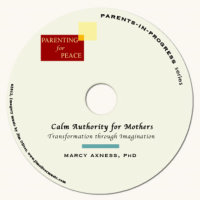 Here are three short excerpts for you to sample:
The Power of Attitude – 1:20
Calm, Loving Authority – :57
Sample of imagery – 1:04
For more information and to purchase either the CD or
instant download, click on either of the following links:

Calm Authority for Fathers 
…is now available! All of the above benefits, specifically tailored to men.
        The Power of Attitude – 1:20
        Calm, Loving Authority – :57
        Sample of imagery – 1:07