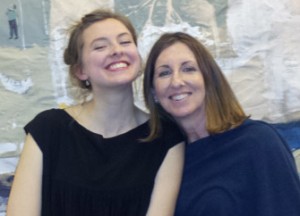 It recently came time for me to walk my talk! How many times have I cautioned parents, "When we overbook, we overlook"? How often have I invited them to recognize that among a child's greatest needs is to be really heard, seen and understood? And how that delicate process can get trampled under the weight of a lock-step schedule. One of the biggest obstacles to tranquility and joy in the home is our adult agenda, and sometimes we simply need to pause for presence.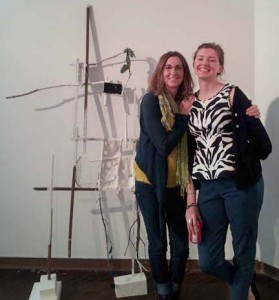 Last week my daughter Eve graduated from college. And a week prior to that was the Senior Art Exhibition in which her work was specially featured. Both of these once-in-a-lifetime events took place in New York. I live in California. You can begin to see the dilemma. But hey, work is virtual these days. I arranged a place to stay for the week between the senior show and the commencement ceremony, and figured I'd have time to get work done during that week. Hahahaha. (You're probably way ahead of me.)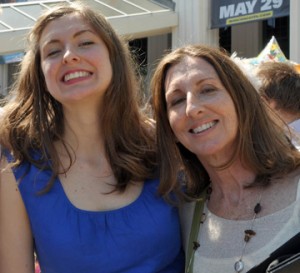 Why I am engaging in what is essentially an overshare? After all, this is my personal life — not related to Parenting for Peace. I probably wouldn't have, except for a note I received after I emailed members of my current teleclass to alert them I was postponing our next session by one week. As I explained to them:
I am here in New York savoring my last three days with Eve…following her college graduation yesterday…and before she flies on a 1-way ticket to Berlin. I had originally thought I'd have time in between various goings-on to prepare for Class Five. Not so. Just as I hope you do in your lives with your younger children, I am adjusting my pace and plans to meet what is arising in the moment.
One class participant replied simply, "Savor! And thank you for modeling that."
Slow Down and Savor
Her note reminded me that we all participate in a collective anti-pausing culture. Doing is everything, and "just" being is… suspect. If we're not accomplishing, we're…what? Lazy? Unproductive? And believe me, I have been a 100% participant in this anti-pausing mentality all of my life. Making that decision to postpone an important scheduled event like the final meeting of my teleclass was radical for me. It was also incredibly liberating! And what prompted it?
Eve had a task she had been putting off through the final intense weeks of school. As part of a job she had been doing for an artist in the city, she was to cut every illustration out of a stack of antique encyclopedias. With time running out before her departure for Berlin, her very busy brother Ian (a musician and musical director) trekked from Brooklyn to the upper west side to lend a helping Exacto hand. (Yes, parents, even the most tortured of sibling relationships has the potential for beautiful resolve!)
In that moment I had a choice: turn to my computer and use those few hours to get my class prepared…or pause for presence. I got some scissors and grabbed an encyclopedia. We made silly jokes about the illustrations, shared fun observations about things that hadn't yet been discovered or invented as of 1903, laughed SO much and, as the keen-eyed among you can see, nibbled on Skittles. Other than the Skittles, the scene was an uncanny reminder of family crafting sessions when they were young. It was sublime.
It was a gift I gave myself, to drop everything and just be there. And though Eve and Ian are now grown and don't so much "need" that level of presence as they did 20 years ago, I think they both really enjoyed my choice.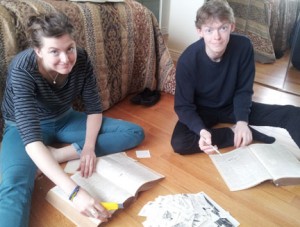 I returned home Wednesday utterly exhausted, yet realizing I was "due" a blog post. (The online world reflects and amplifies a gazillion-fold our unpausing impulse!) In fact, I was overdue. It was starting to look like I'd dropped off the face of the cybersphere. And yet I have suitcases to unpack, pieces of Eve's art to hang, mementos to go through. (And did I mention napping? I have some napping to do.)
So I am continuing my pause for presence through this holiday weekend and will soon be back with full posts — and perhaps my next one will expand upon the joyful richness to be found in slowing down.
Tags: presence